Hedingham Castle's Norman keep, 110 feet high, was built c.1140 by Aubrey de Vere and is still owned by one of his descendants, Jason Lindsay and his wife Demetra. There are four floors to explore, including a magnificent
Banqueting Hall
spanned by a remarkable 28 foot arch, one of the largest Norman arches in England. A good view of this splendid room can be obtained from the Minstrels' Gallery, built within the thickness of the 12 foot walls.
A visit to the castle and its beautiful is a must
Hedingham Castle may occupy the site of an earlier castle believed to have been built in the late 11th or early 12th century by
Aubrey de Vere I
, a Norman baron. Hedingham was one of the largest manors among those acquired by Aubrey I. The
Domesday Book
records that he held the manor of Hedingham by 1086, and he ordered that vineyards be planted

[1]

. It became the head of the Vere barony.
Aubrey II or Aubrey III are candidates for initiating the construction of a major stone building at Hedingham, possibly to reflect the enhanced status of the family. In 1133
Aubrey de Vere II
, son and heir of the first Aubrey, was created
master chamberlain
of England by
Henry I
. In 1141 his son,
Aubrey de Vere III
, was granted an
earldom
by
Empress Matilda
. By that time he had been Count of Guines for several years by right of his wife's claim to that continental territory. Earl Aubrey was forced to surrender his castles to
King Stephen
in 1143, as was his brother-in-law Geoffrey de Mandeville, first earl of Essex. He recovered the castles by the mid 1140s.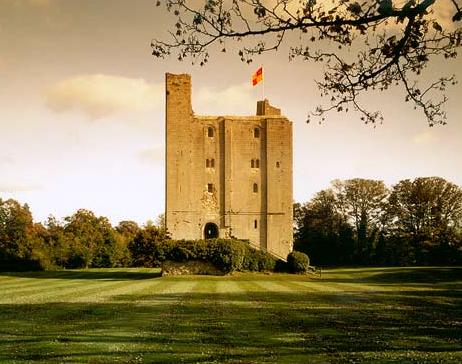 Matilda
, wife of
King Stephen
, died at Castle Hedingham on May 3, 1152.

[2]

The castle was besieged twice, in 1216 and 1217, during the dispute between
King John
, rebel barons, and the French prince. (In both cases the sieges were short and successful for those besieging the castle).
The great hall stood to the southwest and a chapel to the south of the stone keep within the inner bailey.

[3]

A bridge connects the inner bailey to the outer bailey lying to the northeast.
The castle was held by the de Vere family until 1625. Among the more famous earls are
Robert de Vere, 3rd Earl of Oxford
;
Robert de Vere, 9th Earl of Oxford
;
John de Vere, 13th Earl of Oxford
; and
Edward de Vere, 17th Earl of Oxford
. The castle and estate are now owned by the Lindsay family, who are descendants of the de Veres.