Tarawa


On November 20, 1943, Marines landed on the tiny Betio island, in the Tarawa Atoll.
Rear Admiral Keijo Shibasak boasted that a million men couldn't take the island in a thousand
years. It was taken in four days. Tarawa was heavily defended, where Marines encountered
heavily losses on the beaches. Over 1,000 Americans were killed, which outraged people back
in the states, because it was such a high loss for a seemingly insignificant tiny island. Poor
intelligence is credited to the landing craft being stuck in the water and the beach, but at least
these lessons would be learned, and refined in future amphibious landing battles. Out of about
5,000 Japanese, only 146 were alive, mostly Korean slave laborers,
the Japanese organized
their Betio defenses for an all-around, decisive struggle to keep United States forces from reaching the beaches .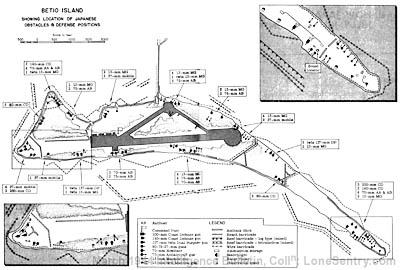 A

map, drawn to scale, is designed to show an

over-all

picture of the enemy defensive setup. The insets show important areas in detail.
The Japanese beach defenses consisted of well-emplaced and well-sited weapons, various
types of obstacles, and mines. The weapons included grenades, mortars, rifles, light and
heavy machine guns,
13-mm
dual-purpose machine guns,
37-mm
guns,
70-mm
infantry guns
,
75-mm
mountain guns (Model 41),
75-mm
dual-purpose guns (Model 88),
80-mm
antipode
guns,
127-mm
twin-mount, dual-purpose guns,
140-mm
coast-defense guns, and
8-inch
coast-defense guns.
The obstacles included pyramid-shaped, reinforced concrete obstacles, which were placed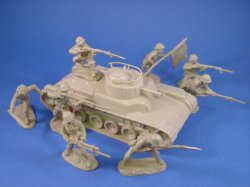 about halfway around the island on
the coral reef; an antiboat barricade, made of coconut-palm logs:
double-apron barbed wire; a perimeter barricade, constructed chiefly of coconut-palm logs;
and antitank ditches, dug a short distance back of the perimeter barricade.
Antipersonnel and antiboat mines were laid on the fringing reef—frequently between the
concrete obstacles—and on the beaches.