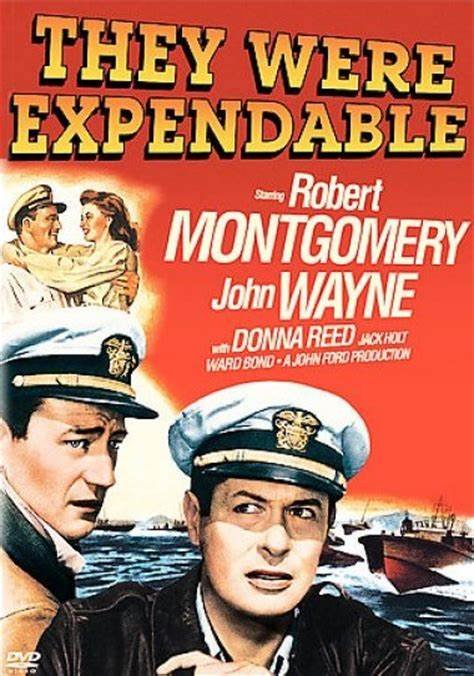 They Were Expendable is a 1945 American war film directed by John Ford and starring Robert Montgomery
and John Wayne and featuring Donna Reed.
The film is based on the book by William L. White, relating the story of the exploits of Motor Torpedo Boat
Squadron Three, a PT boat
unit defending the Philippines against Japanese invasion
during the Battle of the Philippines .photo from
(1941–42) inWorld War II. It features the unit's commanding officer and Medal of Honor recipient Lieutenant John D. Bulkeley,
and Lieutenant (j.g.)Robert Kelly, one of his boat skippers.
Lost Boundariesanother book by white is interesting it is also a film released in 1949. It was directed by Alfred L. Werker and stars Beatrice Pearson, Mel Ferrer (in his first starring role), and Susan Douglas Rubes.
The film is based on the book by William Lindsay White, relating the true story of Dr. Albert Chandler Johnston, a graduate of Rush Medical College whose family passed for white while living in New Hampshire. The movie won the 1949 Cannes Film Festival award for Best Screenplay
The characters of John Brickley (Montgomery) and Rusty Ryan (Wayne) are fictionalizations of the actual subjects. Both the film and the book – which was a best seller and had excerpts published in Reader's Digest and Life– depict actions which did not occur, but were believed to be real during the war; the film is noted for its verisimilitude.A demonstration of the capabilities of PT boats is shown in Manila Bay, Philippines
in December 1941. Lt.j.g. 'Rusty' Ryan (John Wayne) becomes disgusted when his superiors refuse to see the small boats as viable naval craft and is in the process of writing his request for a transfer to destroyers when news arrives of the Japanese attack on Pearl Harbor.
Ryan and Lt. John Brickley's (Robert Montgomery) demands for combat assignments for their squadron are frustrated for a time, but they are eventually allowed to show their capabilities. From there on, there are mostly 'action' scenes, with the exception of Ryan's romantic interludes with Army nurse Sandy Davyss (Donna Reed). With the mounting Japanese onslaught against the doomed American garrisons at Bataan and Corregidor, the squadron is sent to evacuate General Douglas MacArthur, his family, and a party ofVIPs.
This done, they resume their attacks against the Japanese, who gradually whittle down the squadron. As boats are lost, their crews are sent to fight as infantry. Finally, the last boat is turned over to the Army for messenger duty. Brickley, Ryan and two ensigns are airlifted out on one of the last planes because the PT boats have proved their worth and they are needed stateside to train replacement PT boat officers and crews. The remaining enlisted men, led by Chief Mulcahey, are left behind to continue the fight with remnants of the U.S. Army and Filipino guerillas.According to Ben Mankiewicz, a host of Turner Classic Movies, Ford, a well-known taskmaster, was especially hard on Wayne, who did not serve in the armed forces, during filming. When Ford had health problems, he turned to Montgomery – who had actually commanded a PT boat – to take over for him, rather than Wayne. Montgomery did so well, he was directing in his own right within a couple of years.
The film received extensive support from the Navy Department and it was shot on location on Key Biscayne, Florida,an
d the Florida Keys, since this region most closely approximated the South Pacific war zone. Actual U.S. Navy 80-foot Elco PT Boats were used throughout the filming, albeit remarked with false hull numbers that would have been in use in late 1941 and early 1942. Additional U.S. naval aircraft from nearby naval air stations were temporarily remarked and were used to simulate Japanese aircraft in the film.
Harry Cohn, head of Columbia Pictures, accused John Wayne of taking a pass at Cohn's girlfriend and told executives at other studios that Wayne was a womanizer, troublemaker, and showed up for work drunk. Wayne never accepted another role from Columbia, even when the studio bought a script specifically for Wayne to star in years later. His breakout role came when Ford cast him in
Stagecoach in 1939. From that until The Shootist in 1976 he played the lead in about 140 films. There is some dispute about his lack of service in World War II; the studio opposed his entering the service, but he did tour to appear for the troops and did some undercover work for the OSS.
His favorite drink was Sauza Commemorativo Tequila,
and often served it with ice that he had chipped from an iceberg during one of his voyages on his yacht, The Wild Goose.
Wayne loved sultry latins too and married some , he appears to have been no coward either even though he didnt get shot at in ww2.
The evening before a shoot he was trying to get some sleep in a Las Vegas hotel. The suite directly below his was that of Frank Sinatra (never a good friend of Wayne), who was having a party. The noise kept Wayne awake, and each time he made a complaining phone call it quieted temporarily but each time eventually grew louder. Wayne at last appeared at Sinatra's door and told Frank to stop the noise. A Sinatra bodyguard of Wayne's size approached saying, Nobody talks to Mr. Sinatra that way. Wayne looked at the man, turned as though to leave, then backhanded the bodyguard, who fell to the floor, where Wayne knocked him out by crashing a chair on top of him. The party noise stopped.